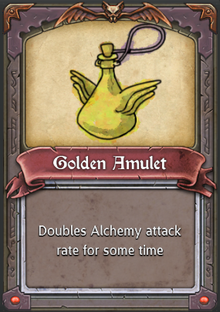 "Doubles Alchemy attack rate for some time"
Alchemy attack rate is slow, so another way of looking at this amulet could be "halves reload time for alchemy weapons".
Only good when synergized with perks like Alchemy Mastery.
Ad blocker interference detected!
Wikia is a free-to-use site that makes money from advertising. We have a modified experience for viewers using ad blockers

Wikia is not accessible if you've made further modifications. Remove the custom ad blocker rule(s) and the page will load as expected.