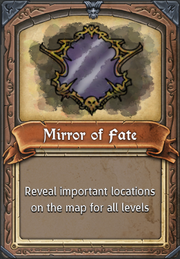 Reveal important locations on the map for all levels.
Reveals every special room on the floor excluding the secret room.
Given that this doesn't reveal the secret room, doesn't actually show the path to the room, and hides the fact that you haven't actually been in a room, this perk is less appealing than it seems.
Ad blocker interference detected!
Wikia is a free-to-use site that makes money from advertising. We have a modified experience for viewers using ad blockers

Wikia is not accessible if you've made further modifications. Remove the custom ad blocker rule(s) and the page will load as expected.