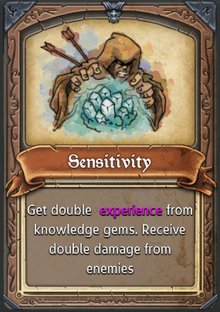 Get triple experience from knowledge gems. Receive double damage from enemies.
Used to grant only double experience before a particular update of the game.
While picking this perk may be tempting, you may end up being knowledgeable and dead if you are unprepared.
Best to pick up this perk early on.
Extremely useful perk in endless mode.
Ad blocker interference detected!
Wikia is a free-to-use site that makes money from advertising. We have a modified experience for viewers using ad blockers

Wikia is not accessible if you've made further modifications. Remove the custom ad blocker rule(s) and the page will load as expected.